We are The Prenups!
Wedding bands in Cavan. The Prenups are Ireland's most popular wedding and party band. Looking for a band for your wedding? Why not turn your wedding reception into something really special. From rock to pop to country, you've found a wedding band to keep the dancefloor hopping all night! All four members hail from Co. Cavan.
Get in touch with us today to check your date and we will get back to you with a quote.
So if you are looking for a wedding band in Cavan look no further!
A 100% live, highly experienced four piece band is waiting to entertain you!
Book your band and DJ in one easy package with us. The Prenups band play for 3 hours followed by our DJ till close. For your special day we will make it a special night.
We are experts at filling dance floors and will have all age groups dancing all night.
Have a look at our SONGLISTS.
To listen to some music tracks and watch real wedding videos, visit our MEDIA PAGE.
The Prenups wedding bands Cavan. We often perform in all of the best Co. Cavan wedding venues: Hotel Kilmore, The Slieve Russell , Crover House Hotel, The Cavan Crystal, The Errigal Hotel, The Farnham Estate. The Park Lodge Virginia. Our fast set up is just 45 minutes, so it won't take long to get the party started.
We are a four piece group, the best wedding band in Cavan, have played together for almost fifteen years, performing at weddings since 2009. Along with that, we have amassed between us an incredible amount of gigging and recording experience. FIND OUT MORE.

Get Your Party Started!
Wedding bands in Cavan.We play a wide selection of music (rock / pop / disco / funk / country / jive / waltz) and also provide a DJ service to play the latest hits of the day! We work very hard to get people dancing, play party games and ensure that everyone is having the night of their lives when we perform!
Our energetic and fun sets are designed for maximum fun and dancing, we will keep everyone dancing all night,but don't just take it from us, here are some TESTIMONIALS from past clients which we also have on our FACEBOOK page.
Cavan wedding Band The Prenups have also entertained at functions,festivals,Christmas party nights, AGM's and dinner dances. Looking for a wedding band in Cavan look no further! Take a look at some of our previous CORPORATE CLIENTS.

wedding band donegal
wedding band fermanagh
wedding band longford
wedding band meath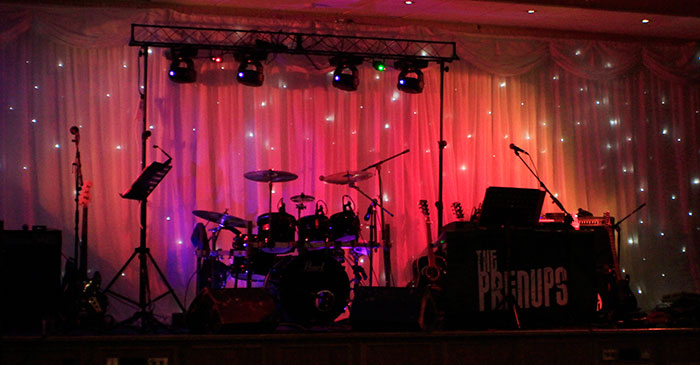 FAQ
What is Involved in Booking your Wedding Band?
Common questions we get asked.
1. Are you available for our date?
Get in touch with us, we will give you a speedy response.Please note dates can fill up quickly.
2. How much are you? How much do you cost? How much is a wedding band?
Wedding band prices are an important question for many couples.
Our quote will depend on a number of factors:
(a) The location. Travel is a factor we need to know in order to quote you in full.
(b) The date/time of year. When is just as important as where! Busy times = higher demand and higher prices!
Give as much detail about your wedding or event as you can. We will give you a quote and the best fit for your big day. We NEVER throw in hidden extras.
3. How much is the deposit? How do I pay the deposit?
We require a deposit of €200.This is paid by credit/debit card, bank transfer or cash.
4. What happens once I pay my deposit?
Now that you have paid a deposit, your date is set in stone! We will be back in touch four weeks before the date of the wedding.
Of course you can get in touch with any questions etc in the meantime!
5. Music Requests. Do you play this song?
Try to have your song selection thoughts, most especially the first dance, 2-3 weeks beforehand.
6. Do you allow singers/guests up to sing?
We do allow this, within reason.
7. On the night. What time do you play at? How long do you play for?
The Prenups will arrive at your venue 60-90mins before the start time you give us. Most weddings we arrive at the venue around 8pm.
Most weddings the band will start 9.30pm. The Prenups play up to 3 hrs. We only stop during the serving of food later in the night.
This is usually around 10.45/11pm.
8. On the night.
During the night, the band will continuously liaise with your wedding coordinator/hotel staff to ensure that the night runs smoothly.
9. Payment in full? When do we pay the rest of the fee?
Payment needs to be completed on the night in cash. This is a job usually reserved for the best man/bridesmaid.